The new version of the traditional home-made Greek meatballs aims to redefine the norms of Mediterranean taste.
MEGA MEATLESS GREEK MEATBALLS INTRODUCES A CONTEMPORARY DIET IN YOUR EVERYDAY LIFE.
Our meatless meatballs are delicious and light, made of 100% plant-based ingredients.
A classic recipe revolutionized to meet the needs of the future.
GLUTEN FREE
SOY FREE
NON-GMO
HIGH PROTEIN
No Added Preservatives
No Added Hormones
No Added Antibiotics
Cruelty Free
Source of Fiber
Cholesterol Free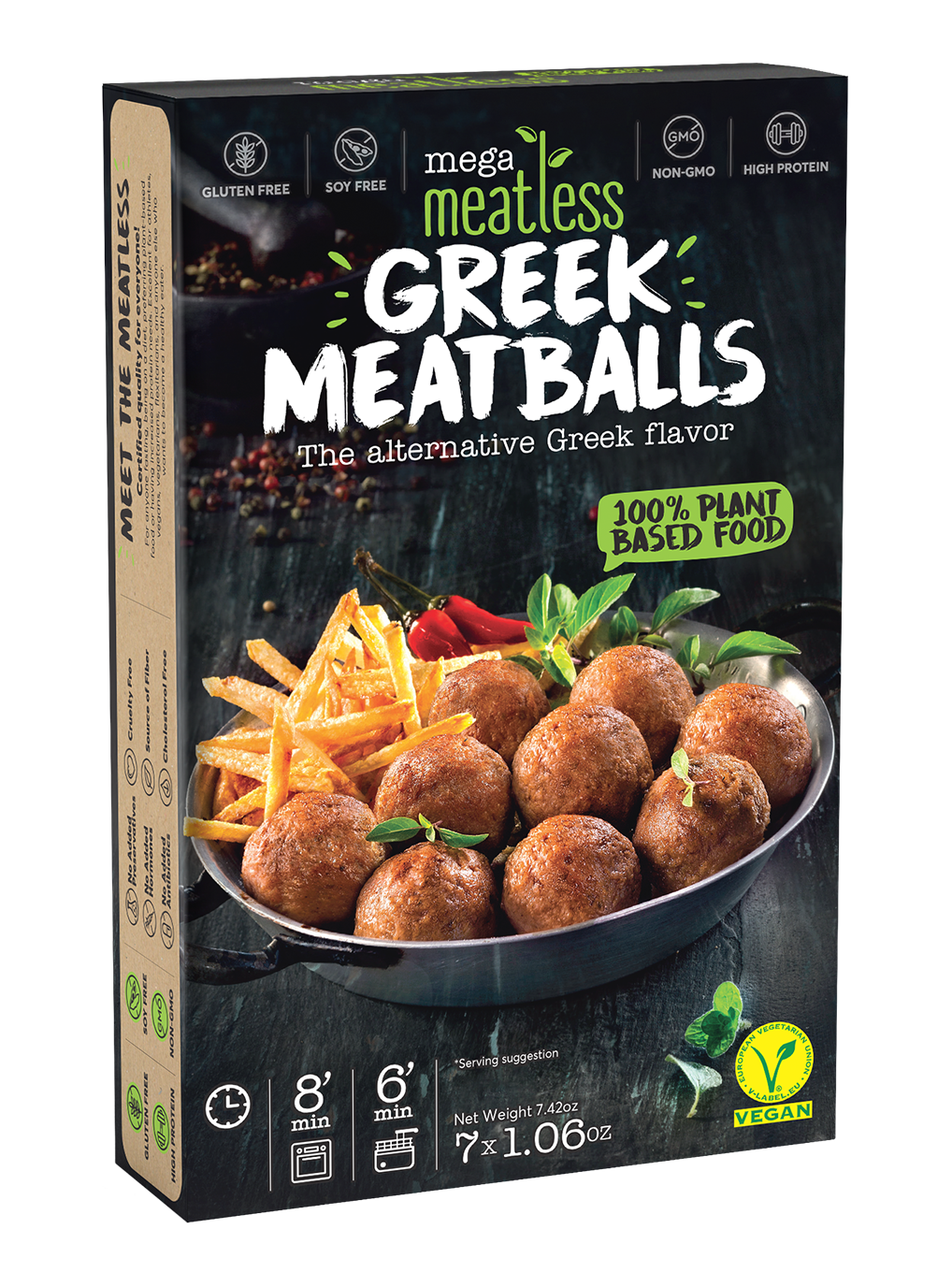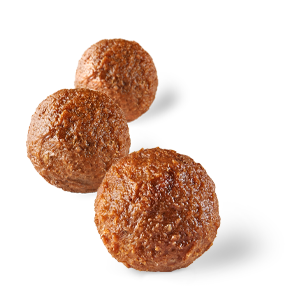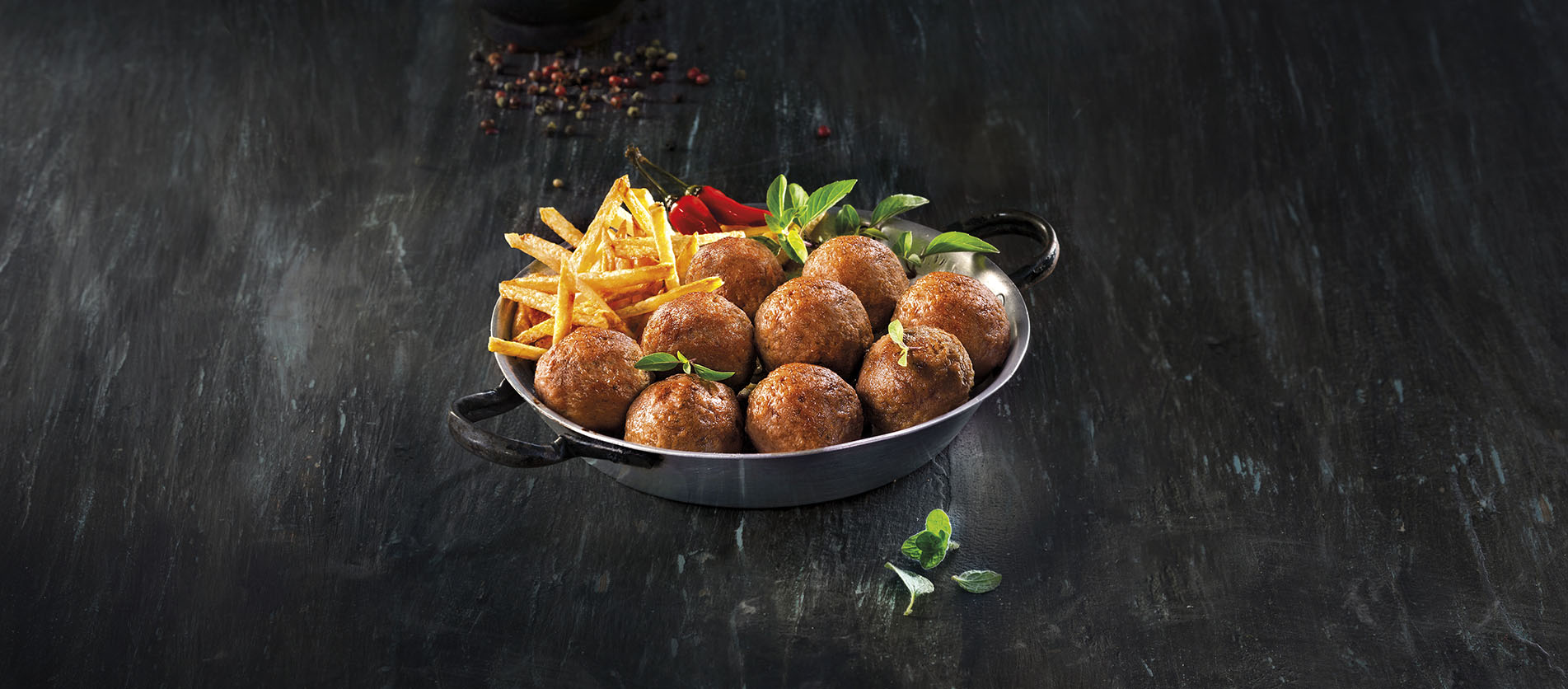 Serving size 3 pieces (90g)

Calories

190

Amount/serving

% Daily Value

Total Fat12.5g

19%

Saturated Fat 8g

40%

Trans Fat 0g

Cholesterol 0mg

0%

Sodium 282mg

12%

Total Carbohydrates 9g

3%

Dietary Fiber 1.5g

5%

Total Sugars 0g

Includes 0g added Sugars

0%

Protein 11g

Vitamin D 0mcg

0%

Calcium 28mg

2%

Iron 3.4mg

19%

Potassium 115mg

2%
The % Daily Values (DV) tells you how much a nutrient in a serving of food contributes to a daily diet. 2,000 calories a day is used for general nutrition advice.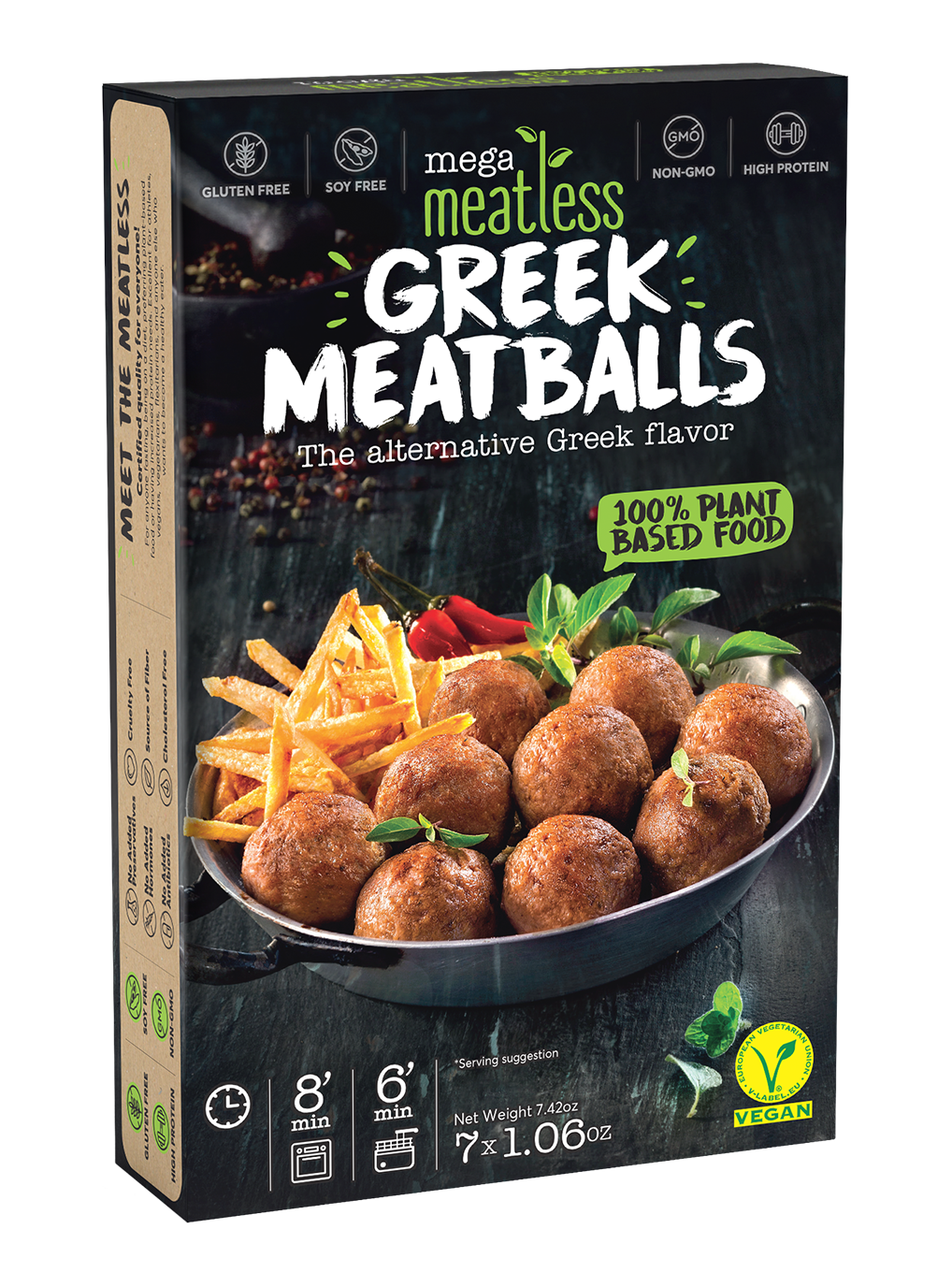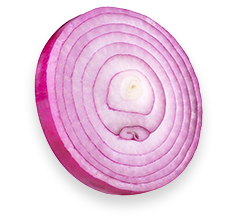 Pea Protein • Coconut Oil • Sunflower Oil • Citrus Fibre • Psyllium Fibre • Yeast Extract • Dried Herbs And Spices (Black Pepper, Oregano, Cumin) •
Sweet Red Pepper • Dried Vegetables (Champignon Powder, Garlic) • Red Beetroot Juice Concentrate • Potato Starch • Onions •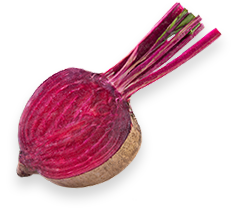 Texturized pea protein, water, coconut oil, sunflower oil, onion, salt, potato starch, corn starch, citrus fiber, psyllium fibers, natural flavors, yeast extract, herbs and spices, dried vegetables (mushrooms, garlic), vegetable broth, glucose syrup, bamboo fiber, beetroot concentrate, emulsifier (sunflower lecithin), acidity regulator (citric acid), thickener (methyl cellulose).

Keep frozen. Deep Frozen Product. ONCE DEFROSTED DO NOT REFREEZE. Must be cooked prior to eating.

Suitable for vegans

Gluten free, Soy free, High Protein, Non-GMO, No added Preservatives, No added Antibiotics, No added Hormones, Cruelty free, Cholesterol free, Source of Fiber

Remove the product from the packaging.

Oven: Preheat the oven. Cook the product at 390-430°F for 8-10 minutes.

Fryer/Frying pan: Fry for about 6-7 minutes at moderate temperature.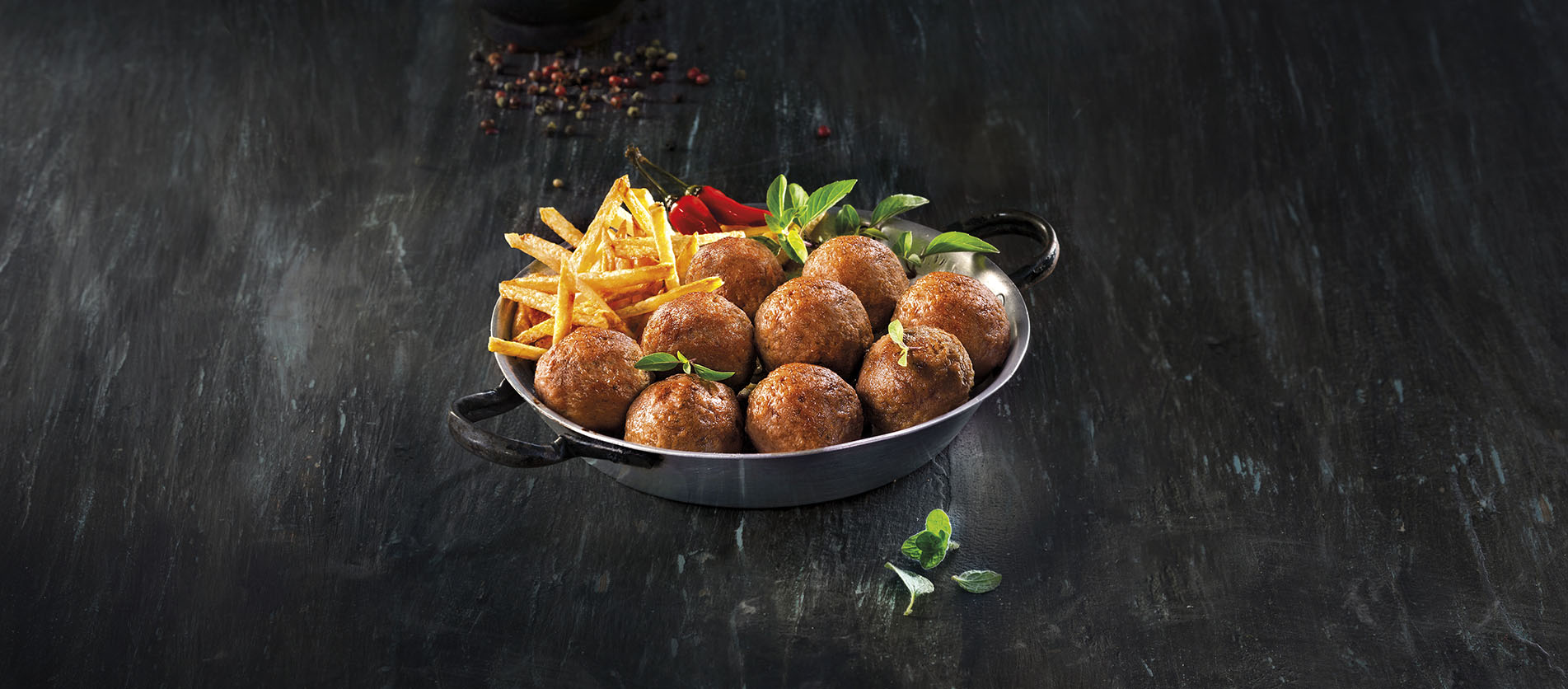 With Meatballs
Mexican Meatless Meatballs
Hawaiian Luau Meatless Meatballs
French Onion style meatless meatballs
Greek Keftedakia
read more